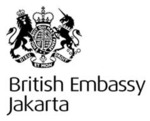 There has been some changes to the ways things are being done at the Embassy in Jakarta for British Passport holders.
You should click this link and follow the advice there
https://britembassyindonesia.clickbook.net/sub/britembassyindonesia#.U0eED3SUPao
My advice is to click the link and also contact the Embassy direct.
I have taken this straight from their website, lets hope they don't mind
"Appointments in Jakarta can be made on
Monday, Tuesday, Thursday and Friday from 0830-1200
.
Appointments in Bali can be made
Monday, Wednesday, and Friday from 0830-1200
.
We recommend that you schedule your appointment 1 week prior your intended visit.
To avoid wasted travel, please confirm with us directly the purpose of the service you wish to obtain. Incomplete applications will be refused and you will be asked to set another appointment online."
The address for the British Embassy Jakarta is:
"British Embassy Jakarta Consular Section, British Embassy Building, Ground Floor, British Embassy Jakarta 12950 Jakarta, Indonesia Tel: +62 (21) 2356 5200 Fax: +62(21)3160858"
The consulate office has gone.
Well I clicked the link, there seems to be no information it just redirects you to the main page.
The new website looks great and very simple to follow.
When I get to use it I will let you know.